Amazon released the 𝗘-𝗠𝗮𝗶𝗹 𝗠𝗮𝗿𝗸𝗲𝘁𝗶𝗻𝗴 function to more Brands and made it broadly available
𝗪𝗵𝘆 𝗪𝗼𝗿𝗸𝗮𝘁𝗶𝗼𝗻𝘀 𝗮𝗿𝗲 𝗴𝗿𝗲𝗮𝘁 𝗳𝗼𝗿 𝘆𝗼𝘂𝗿 𝘁𝗲𝗮𝗺𝘀
𝗔𝗿𝗲 𝘆𝗼𝘂 𝘂𝘀𝗶𝗻𝗴 𝗙𝗶𝘅𝗲𝗱 𝗕𝗶𝗱𝘀?
💥 Amazon released the 𝗘-𝗠𝗮𝗶𝗹 𝗠𝗮𝗿𝗸𝗲𝘁𝗶𝗻𝗴 function to more Brands and made it broadly available. 💣
The Call it Customer Engagement and you can find it here:
𝗦𝗲𝗹𝗹𝗲𝗿 𝗖𝗲𝗻𝘁𝗿𝗮𝗹 > 𝗕𝗿𝗮𝗻𝗱 > 𝗖𝘂𝘀𝘁𝗼𝗺𝗲𝗿 𝗘𝗻𝗴𝗮𝗴𝗲𝗺𝗲𝗻𝘁
This tool was available to some Brands already since Q3/Q4 of last year as a beta and enables you to send "custom" emails directly via Amazon.
This is exciting news, as you can directly connect with your customers
❓𝗛𝗼𝘄 𝗮𝗿𝗲 𝘁𝗵𝗲𝘀𝗲 𝗮𝘂𝗱𝗶𝗲𝗻𝗰𝗲𝘀 𝗱𝗲𝗳𝗶𝗻𝗲𝗱?
1. 𝗥𝗲𝗽𝗲𝗮𝘁 𝗰𝘂𝘀𝘁𝗼𝗺𝗲𝗿𝘀
Customers who have ordered your brand's products more than once in the last 12 months. These are your loyal customers. Engage to reward loyalty, deepen relationships, and grow repeat purchase
2. 𝗛𝗶𝗴𝗵 𝘀𝗽𝗲𝗻𝗱 𝗰𝘂𝘀𝘁𝗼𝗺𝗲𝗿𝘀
The highest spending 25% of your brand's customers in the last 12 months. These customers spend the most on your brand's products. Engage to strengthen the relationship, build brand advocates, and grow repeat purchases
3. 𝗥𝗲𝗰𝗲𝗻𝘁 𝗰𝘂𝘀𝘁𝗼𝗺𝗲𝗿𝘀
The most recent 20% of customers who have purchased from your brand. These customers have purchased from you most recently. Engage to grow your relationship and inform them of other brand offerings
4. 𝗕𝗿𝗮𝗻𝗱 𝗳𝗼𝗹𝗹𝗼𝘄𝗲𝗿𝘀
Brand followers have clicked to "follow" this brand on Amazon
❓𝗛𝗼𝘄 𝗰𝗮𝗻 𝗜 𝗮𝗰𝗰𝗲𝘀𝘀 𝘁𝗮𝗶𝗹𝗼𝗿𝗲𝗱 𝗮𝘂𝗱𝗶𝗲𝗻𝗰𝗲𝘀?
Tailored audiences are currently in beta and are available to a limited number of brands based on previous customer engagement campaign engagement. Amazon is actively expanding the beta to more brands.
To be eligible for tailored audiences, your brand must have:
• Sent 10 or more customer engagement campaigns with at least 1000 total emails sent over the last 10 campaigns
• Average opt-out to click rate less than 1% over the last 10 customer engagement campaigns
❓ 𝗪𝗵𝗮𝘁 𝗰𝗮𝗻 𝗜 𝗱𝗼?
Not so much. The limitations of this tool are on what you can promote and how. You can choose the audience first and then you'll select an ASIN you want to promote. This ASIN has to be eligible for the promotion
You can add a product that you want to feature prominently in your email campaign. It can be a new product launch, a gift idea, and can include promotional details if the product is part of an eligible promotion.
Once you choose your ASIN, you can either choose an image from the Product Detail Pages Main Images or upload your own custom Image. You can select a Start Date and The Email Title & Subtitle and that's it.
Currently, the primary use case is to promote new product launches, but maybe you'll have used the tool already for other purposes?
Let me know in the comments!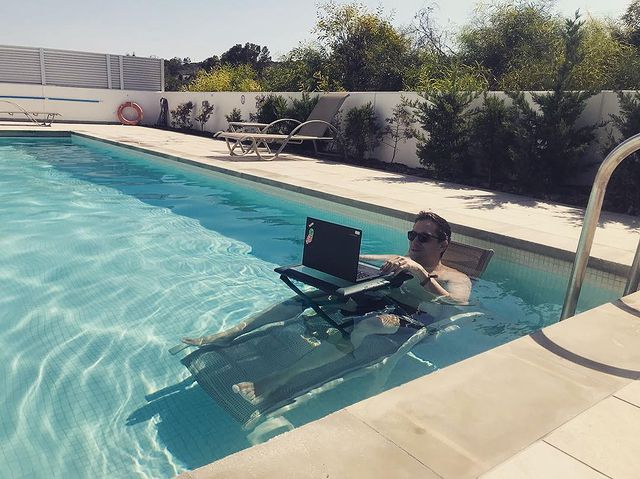 🌊🏖️ 𝗪𝗵𝘆 𝗪𝗼𝗿𝗸𝗮𝘁𝗶𝗼𝗻𝘀 𝗮𝗿𝗲 𝗴𝗿𝗲𝗮𝘁 𝗳𝗼𝗿 𝘆𝗼𝘂𝗿 𝘁𝗲𝗮𝗺𝘀 🧠
This picture of me is from 2017. So a very long time before everybody was "forced" to work remotely and before most companies started to do this trendy topic workations. I even believe our company back then ( Peak Ace AG ) was one of the first companies to bring this as a perk to the employees. We had a very nice villa in Cyprus booked for a couple of weeks for all teams to enjoy working from a place where the sun is still shining while the weather in berlin gets wet and grey (October). People needed to buy plane tickets themselves, but the company organized the place to stay and made sure we had great wifi to still have calls with clients, etc.

I really enjoyed the time I was there as you might be able to see from this iconic picture of me (obviously staged 😅) and here are the reasons why you should adopt this in your company as well:

Work needs to be fun (at least from time to time). This can happen in the office, sure. This can happen remotely (it might just happen less often I believe), but it will definitely happen if you travel somewhere and work like a small young startup all together from the same couch.

Connecting Fun & Work boosts a lot of positive energy. People are more motivated and less anxious. Ideas can spark better and people can have more meaningful connections. And isn't that was life is about? Meaningful connections?

What I am aiming for in my life: At Least travel once a year somewhere and work from there. I know this is a huge privilege for me, to be able to work from anywhere in the world basically. But the truth is also, I am not making use of these possibilities. Most of my life is spent in the office/home office. While there is so much opportunity in front of me, I am not making use of it often.

Gladly I have a team Thrasio that thinks very much like me on this topic. So this year, we have organized already our 2nd workation as a group and will travel to Valencia. We will work hard and let's see: party hard as well (eventually). But one thing is true so sure, we will connect. We will learn from each other and we will grow as a team!

The best thing: the whole trip is completely self-organized from us. Some quick polls over slack about the date, the location, and the actual house and done ✅

So if you are an employer, think about the possibilities you can open up for your teams.
😱 𝗔𝗿𝗲 𝘆𝗼𝘂 𝘂𝘀𝗶𝗻𝗴 𝗙𝗶𝘅𝗲𝗱 𝗕𝗶𝗱𝘀? 🧠
Fixed Bids on Amazon is a campaign setting available for Sponsored Products campaigns. Unlike the other two options (up&down ; down only) it doesn't allow amazon to algorithmically adjust your set bid. So you have more control over the bids.

➡️ 𝗪𝗵𝗲𝗻 𝘄𝗼𝘂𝗹𝗱 𝗜 𝘂𝘀𝗲 𝗳𝗶𝘅𝗲𝗱 𝗯𝗶𝗱𝘀?

There are a few occasions on which I think dynamic bidding is not the right approach.

✅ A / B Testing

Whenever we are coming up with ideas to A/B Test something, e.g.we want to see if product targeting with exact products works better or worse than with expanded products. In such a scenario, we already have a lot of variables that we can not influence, so setting a fixed bid for the period of the test decreases the number of dynamic inputs, which should help us get clearer results.

Whenever somebody runs a test in our team, my first question afterward would be: "did you had fixed bids or not?" If bids were influenced by a bidding system and/or the amazon campaign bidding settings and therefore can be different each day, I have a strong doubt the results will tell us a meaningful story.


✅ new campaigns

Usually, I like to give campaigns some "exploration" time. This translates into a certain amount of data gathered (clicks, conversions, etc.) before actually making a call to increase or decrease bids. If new campaigns are run with automation there is a chance that the automation is either pushing too much or reducing too fast. Both directions are undesirable for me in the first days. Therefore I would rather have fixed bids with new campaigns and change them after some exploration time. The actual time of exploration depends on the campaign. What is our CPC and how is that looking against our avg. CPC for similar campaigns and what is our avg. CVR for similar campaigns. This will tell me, how many clicks I should expect at least to get before a conversion usually appears and how much this will cost me

What other use cases do you have for fixed bids or do you never use them at all?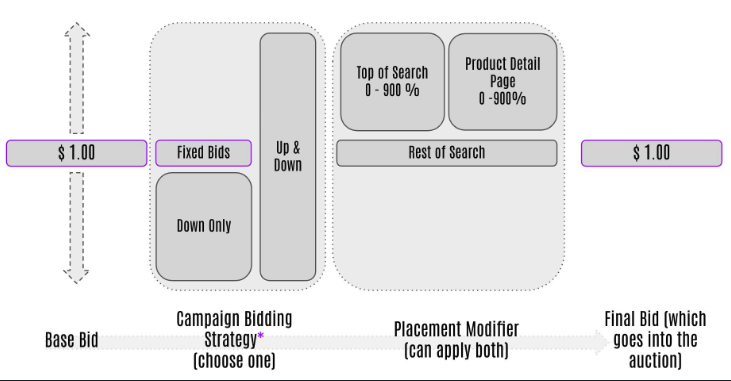 📝 𝗦𝗲𝗮𝗿𝗰𝗵 𝗤𝘂𝗲𝗿𝘆 𝗣𝗲𝗿𝗳𝗼𝗿𝗺𝗮𝗻𝗰𝗲 𝗥𝗲𝗽𝗼𝗿𝘁 𝘃𝘀 𝗦𝗲𝗮𝗿𝗰𝗵 𝗖𝗮𝘁𝗮𝗹𝗼𝗴𝘂𝗲 😱
Have you ever compared your Search Query Performance Report against the Search Catalog Report Data?
Well, if not, here are some insights, you might find helpful.

✅ 𝗙𝗶𝗿𝘀𝘁: 𝗪𝗵𝗲𝗿𝗲 𝗰𝗮𝗻 𝘆𝗼𝘂 𝗳𝗶𝗻𝗱 𝗯𝗼𝘁𝗵 𝗿𝗲𝗽𝗼𝗿𝘁𝘀?

They are both under Brands > Brand Analytics >
Search Catalog Performance
Search Query Performance

✅ I did download April Data for one of our Brands and I did download the same date range for some (6) ASINs of that brand from the Search Query Performance Report and then I did compare both report metrics with each other.

As you can see on the screenshots, there is a gap between both reports on all metrics.
The interesting part here is that this Gap is closing and get more narrow the closer we are getting to Purchases.

While at Impression Level we saw on average only 35% of Impressions in SQP compared to Search Catalog (SC) it was close to 80% on the Purchase Level.

❓𝗪𝗵𝘆 𝘀𝗵𝗼𝘂𝗹𝗱 𝘆𝗼𝘂 𝗰𝗮𝗿𝗲?

Because it is important to understand that Amazon is only showing you a fraction of your truth on these reports. Never take these as 100% accurate and only take them as directional.

You can see this especially when looking at CVR measured in these reports based on the clicks and purchases. There is a huge difference in CVR between the SQP and the SC Report.

❓𝗪𝗵𝘆 𝗶𝘀 𝘁𝗵𝗲𝗿𝗲 𝗮 𝗱𝗶𝗳𝗳𝗲𝗿𝗲𝗻𝗰𝗲?

Well, SQP is only showing us the top 100 (ranked by Amazon) search terms and this is already a limitation in itself as I am not seeing 100% of searches. Also as most of you know we only have SP and Organic searches appearing there and we do miss lots of different traffic channels.
Search Catalog does show a much broader picture on the ASIN Level but without any breakdown into specific Search terms. Therefore this report could serve as a starting point with MoM comparisons and the SQP report would be used as a deep dive.

That's All I got for today

𝘏𝘢𝘱𝘱𝘺 𝘍𝘳𝘪𝘥𝘢𝘺 🏇

PS: All ASINs have been blanked out. But the order of ASINs is always the same in each table